Dealership Reviews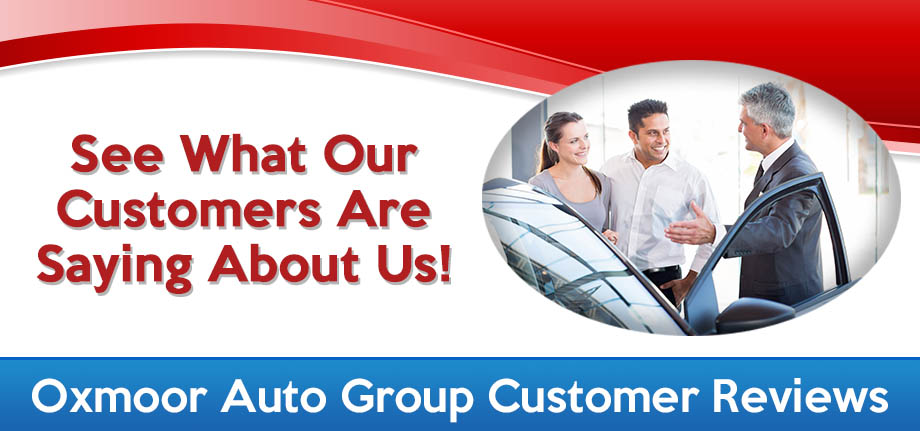 At Oxmoor Auto Group, we're proud to be one of Kentucky's premier used car dealership groups, and we strive every day to give you a buying experience that's second to none.
But don't take our word for it! Take a minute to read our customer reviews, and see what real people are saying about buying a used or Certified Pre-owned car from Oxmoor.
Dealer Rater
Google
Cars.com
Yelp


Easy Saturday afternoon
I had an easy Saturday afternoon oil change & tire rotation. Joy Fisher was a delight to work with at this appointment. I was in and out in an hour. The waiting area is always comfortable, with drinks & snacks available. Oxmoor Hyundai is great!
Oxmoor Hyundai


R. & K Keeling
Very good price. Trade in was very fair. Warranty was great. Salesman George great. Just a great pleasant experience all around. Couldn't ask for better. Will return.
Oxmoor Ford Lincoln


Amazing Service
Cory Morris has helped me significantly in my recent car purchase. He was able to get me the absolute lowest price on my new car and did not pressure me whatsoever. He definitely went above and beyond.
Oxmoor Toyota


Great Experience
My time was well taken into consideration. Quick, easy process. Followed through on everything they committed to. Greg and Jeremiah made typically unenjoyable car buying process painless.
Oxmoor Chrysler Dodge Jeep Ram


6th Hyundai
I bought a Hyundai Accent from Eric Apel last yr. & received very good service & help from him. I bought what I could afford at the time & told him I would be trading it in in 2016 for what I really wanted. I bought a Hyundai Sonata Hybrid 2015 & he was very helpful w/ me & I think I got a pretty good deal. He explained the features, etc. & I had a test drive. I am very satisfied & would recommend Eric & Hyundai to anyone. This is my 6th Hyundai-need I say more??
Oxmoor Hyundai

Bobby Fisk
I hate car buying and writing a review comes with some difficulty. This Dealership has a high-end appeal. I have to enthusiastically recommend Bobby Fiske as a wonderful, helpful, upfront salesperson. Nothing hidden with him, very informed on his product and makes the ordeal of buying a more pleasurable. I give him 5 stars! If you are going there, ask for him!
Oxmoor Toyota


Really Great
Really great, the guys are all really nice and helpful, great customer service. I absolutely love my Mazda 6 grand touring and would recommend them to anyone.
Oxmoor Mazda


Working with Greg was an enjoyable car buying experience.
Working with Greg was an enjoyable car buying experience. He spent a great deal of time letting me evaluate and test drive the vehicle. He was very knowledgeable about the RAM 1500 and stayed late to let me test drive the vehicle the first time and once again when I decided to make the purchase. Once I decided to purchase the vehicle he worked with the sales manager to get me a great deal and brought in the finance person when I had questions about one of the incentives. Throughout the process Greg, and everyone else, was always professional and courteous. It was truly an enjoyable experience.
Oxmoor Chrysler Dodge Jeep Ram


Kris Rocks!
Kris was such a refreshing change of pace from many of my other car purchases. He is exceptionally well versed in people skills and didn't do the high pressure in your face sales tactics that we all loathe. I will definitely look to Kris and Oxmoor Mazda for our next new or used car purchase! I love my new Mazda 6!!
Oxmoor Mazda


Service Department
Very friendly and courteous sales department! I was waited on in a timely manner. All service met up to my expectations. Will continue to use this service department on my truck.
Oxmoor Chrysler Dodge Jeep Ram


Service was excellent
John Bishop was my service technician and he was awesome. I was very pleased and couldn't ask for better service. He's very professional and knowledgeable.
Oxmoor Mazda

Two month journey to a Sienna
I'm not one to write reviews but I had a good experience with Oxmoor Toyota and Bobby Fiske. They never gave up and wanted to make the deal for me that I would accept. After a few weeks of talking we made the deal and I couldn't be happier with the Sienna Limited we purchased. I traded in a 2013 Nissan Pathfinder at the price I requested and drove off in the Sienna that was better priced than any other Sienna Limited within 250 miles. Bobby always answered my texts and phone calls. He was committed to finishing the deal for us and showed great motivation and a good product knowledge. Go see Bobby and his handlebar mustache at Oxmoor Toyota. You won't regret it. Ask him for one of those sweet German pens.
Oxmoor Toyota


Always a Pleasure
It's always a pleasure having my two Hyundai's serviced at Oxmoor Hyundai. I trust them whole heartedly and I refer to them as my mechanics.
Oxmoor Hyundai

I have to give those guys two thumbs up! I really felt like they went above and beyond to get me into the car of my dreams for right around the price I wanted it!
Oxmoor Mazda

After 40 years, I literally stepped out and we purchased a RAM 1500. Product exceeded my expectations. Moreover, the dealership was terrific! We liked the truck and dealership so much, we just purchased our second truck.
Oxmoor Chrysler Dodge Jeep RAM

I have purchased three cars from Oxmoor Hyundai — I've NEVER had a bad car buying experience with this dealership. They are professional and the experience is pleasant
Oxmoor Hyundai

I looked at 3 local Toyota dealers before buying at Oxmoor. Their pricing was straightforward and they always gave the out the door price that asked for. I actually enjoyed my experience- as I had done most of my paperwork online and only spent about an hour at the dealership.
Oxmoor Toyota

We purchased a 2012 Honda CRV from Oxmoor Ford has been a great experience from purchase to service. Everyone courteous and good service.
Oxmoor Ford Lincoln

I purchased a 2013 Mazada Cx9 from this dealership on Feb. 12th. All members of the staff I dealt with were friendly, helpful and personable. Each staff member took their time to make certain I was getting not only a vehicle I would love, but the best rate and lowest payments on my loan.
Oxmoor Mazda

Best dealership and service of any dealership we have ever been too. My Equus is always cleaned serviced correctly. JR is amazing!!! Paul in sales is the best and I will always go back!!! Tried St. Louis dealerships and they were dishonest and messed up my car which Oxmoor fixed! Love them
Oxmoor Hyundai

We went to the Hyundai dealer as one of our first stops but also visited many other dealerships and drove and reviewed many other vehicles. We came back to Hyundai mostly due to the quality of the vehicle, warranties and look/features but also partly because of Danielle Bischoff.
Oxmoor Toyota

We had a very positive experience with a salesman at this dealership. He took the time to listen to our needs, pulled up a vehicle with exactly what we were looking for to test drive, and even humored our wanting to test drive two different classes of vehicle just to make sure we were getting what we were looking for.
Oxmoor Ford Lincoln